Welcome to the Friendly
Cloud Infrastructure
Kickstart your first Business website with Cloud SSD Storage. Now with Intel Skylake CPU up to 50% Faster
Kickstart Now
Don't know how to start? We will help you
Welcome to the Friendly
Cloud Infrastructure
Kickstart your first Business website with Cloud SSD Storage. Now with Intel Skylake CPU up to 50% Faster
Kickstart Now
Don't know how to start? We will help you
Find Your Perfect Cheapest Domain
.com ₹749           .xyz ₹99           .org ₹999           .co ₹171           .info ₹349
.com ₹749     .org ₹999    .info ₹349   
.co ₹171    .xyz ₹99
Innovative Cloud Infrastructure
We know setting up your first website may take a while. At WebVerge you can easily buy domain and hosting in just some few clicks. You always get a premium support which will help you to setup your WordPress website and with a free SSL certificate.
Optimised cPanel
Our Servers are optimised for all kinds of websites. You get a cPanel which helps users to upload files with a single click.
Free Professional Emails
Do you want your own email address? Well! We've got you covered with our cloud hosting you can get free emails.
1 Click WordPress Install
Want to install WordPress? You can install it with a single click. No need to set up a database or upload WordPress files.
Uptime Guaranteed
We know it is irritating to see your website go down. We understand your business needs and that is why we provide 99.9% uptime.
Free SSL Certificate
No need to spend extra on SSL certificates because we at WebVerge give you SSL for free. We think of your privacy first.
World Class Support
We know that sometimes setting up your website may take time to understand. You can always create a support ticket & we will help you
We provide the best Cloud Infrastructure which will help you to manage any kind of website. Our servers are on raid 10 which will keep your data safe. We know what is best for you and that is the reason we focus on security & speed.
Singapore Data Center

1 Website

3 GB SSD Storage

20 GB Bandwidth

Free & Auto SSL

Auto WordPress Updates
How WebVerge Works For You
Peace of Mind
When we handle your server you don't need to worry about anything because we make sure your server is up and you get the best service from us.
Support
With us you get an amazing support. If you're stuck or don't know how to get started with domain and hosting then you can contact us and our team will help you.
Ready to Launch
Once you have setup everything then you don't need to worry about anything you can easily focus on your own business and leave rest on us.
All our websites are hosted in Singapore and we have a Raid 10 storage which keeps your data safe incase of disk failure. We know what is best for you and that is why we provide the best Cloud Hosting solution to you.
Our Customers, Our Success
I'd been planning for more than a year to start my own website but I'd always get stuck at the first step because even if the cost of the domain was less, the end cost would end up being 1499. With WebVerge, I could not only buy the domain for lesser cost but also got an amazing customer service. There were instant updates on email. Now I'm also going to buy the hosting from WebVerge!
At first, I was unsure that I am not buying from one of the big names that we have heard of but I am so happy that I took this step and bought a domain and hosting from WebVerge. I especially love the customer service and how they genuinely try to help you set up your online business. The deal is just too good for the price on WebVerge and I am sure all my future websites will be hosted right here.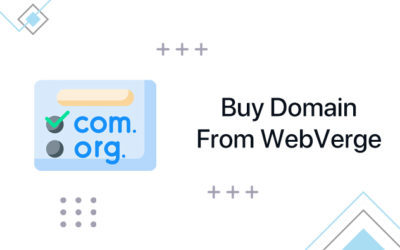 Are you thinking to buy a domain name and don't know how you can get started? I know it is difficult for someone to buy the domain for the first time. There are so many jargons and sometimes it is difficult for a newbie to get started. What is a Domain Name? A domain...